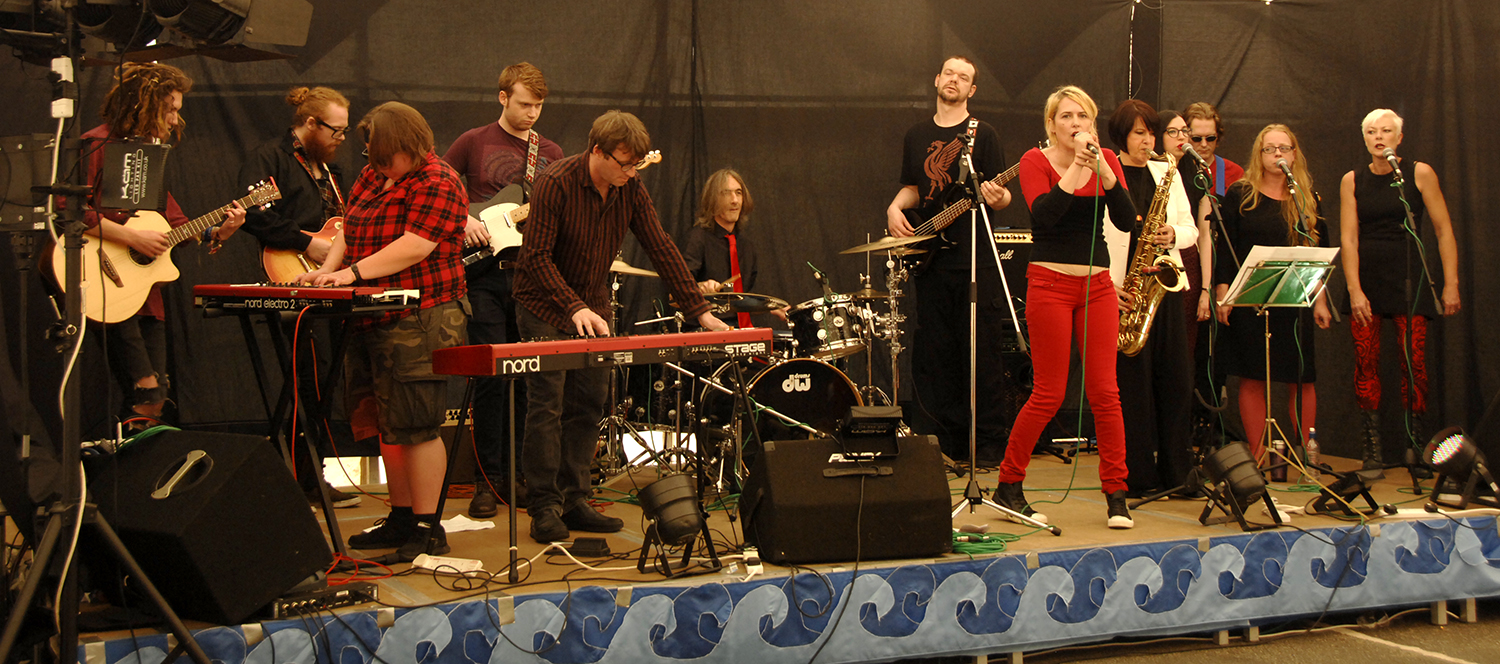 Words and photos by Dave Barry
Sun and rain, great music and fine food, fireworks and a Lancaster bomber: this year's Seafest had it all.
Centred on the West Pier, it was the 19th annual Seafest and ran over three days on Scarborough's seafront.
It had street theatre, workshops, a giant sand drawing on the beach, pebble sculptures, seaside craft, storytelling and guided rock-pool rambles.
Scarborough Hospitality Association arranged cooking demonstrations by chefs and exhibitions were mounted by the Maritime Heritage Centre and the Coble and Keelboat Society.
Trawlermen wearing barnacle beards, big bouncy boots and bright yellow suits told unlikely tales of the high seas.
Over on the north wharf, budding seafarers boarded two Royal Navy patrol vessels, HMS Puncher and Trumpeter, and a replica of HMS Pickle.
Animated Objects Theatre's giant Wayfarer puppet walked around the beach while Impossible Arts took photos of people and merged them into a rogues-gallery film depicting times gone by.
The Deceiver performed magic tricks, sleight-of-hand artistry and mind-reading.
Pete White and his Suitcase Circus presented a hula-hoop challenge, tricks, stunts and circus fun.
The biggest marquee contained a stage at one end and a bar at the other. The bar was run by Cropton's Great Yorkshire Brewery. The 30-odd beers, lagers and ciders included several from the North Riding Brewery.
The GYB's new bottom-up beer dispenser drew a lot of interest, filling plastic glasses through a hole in the bottom which was then sealed by a magnetic disc.
On Sunday, a Lancaster bomber, part of the Battle of Britain memorial flight, flew overhead.
Musical highlights included Dead Flowers and Mister Tooley's late-night set on Saturday and, on Sunday, Sofajunkies, the Hard Times Orchestra, a blistering set from Jesse Hutchinson and Serena Manteghi, star of the Stephen Joseph Theatre's Little Voice show. Ryan Heath put the music programme together and took care of the sound.
Sharing the bill were Northern Riots, Feens, Ten Foot Tom and the Leprosy Crooks, Reytons, March the Ally, Hugh Stanway, Samuel Lenton, Hummingbirds, Ross Dransfield, Low Focus, Rattlin' Sheiks, Ramshackle Shantymen, Pyrates, Chloe Moran, Monotones and the Jelly Roll Band, playing music from the 1920s.
Funding for Seafest was boosted by a £14,500 Arts Council grant and sponsorship from housing firm Keepmoat Homes.