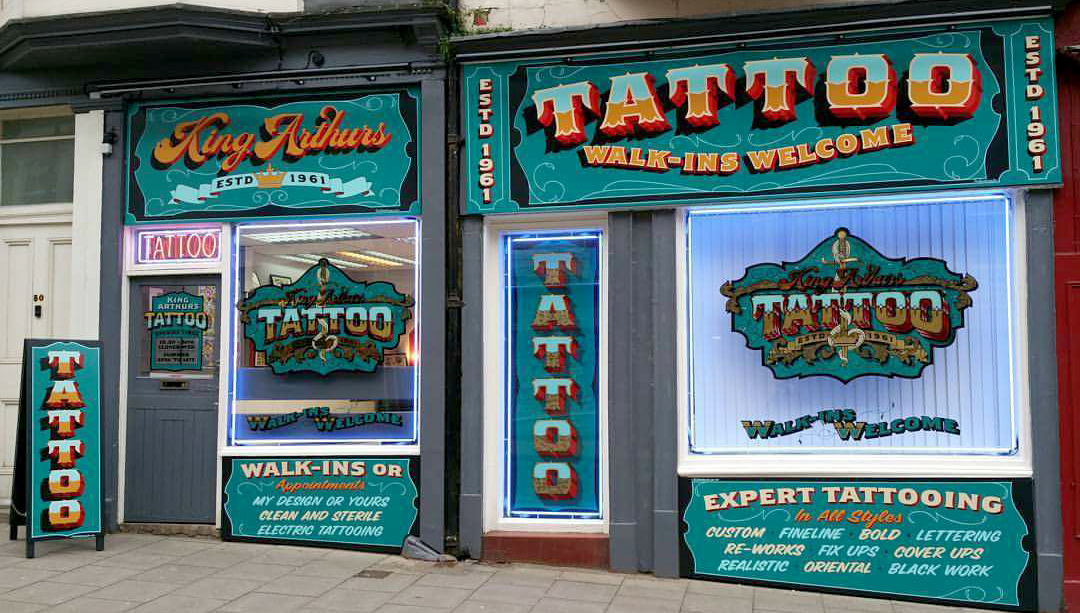 by Dave Barry
Scarborough's oldest tattoo parlour is thriving under new ownership.
King Arthur's Tattoo, in the lower end of Eastborough, was established in 1961 by Arthur Bishop.
It had been empty for a few months when Richard Higgins moved in, just over a year ago.
Richard spent a lot of money on refurbishing the premises and installing fixtures and fittings, including autoclave and ultrasonic cleaning machines for sterilising equipment.
Hygiene is of paramount importance. Needles are never used twice; new ones are used with every customer before being thrown away to avoid all possibility of cross-contamination. The standard of hygiene is the same as at hospitals, Richard points out.
Born and raised in Howden, Richard has run or worked in tattoo shops in Thorne (near Doncaster), Goole, Leeds and Bradford.
He moved to Scarborough when he discovered that King Arthur's, one of Europe's oldest tattoo shops, was on the market. "It's such a historic shop and it would have been wasted if somebody hadn't taken it over, which would have been a shame", he says.
Richard is a keen surfer so the move to the coast killed two birds with one stone.
He got his first tattoo when he was 17 and has been practising tattooing since 2001. He was into skateboard art and getting better and better at creating doing his own designs. He got into tattooing after a tattoo artist made a mess of recreating one of his designs.
"I thought I could do better", says Richard, who is self-taught.
He puts the huge popularity of tattoos down to celebrities like David Beckham and TV shows such as Miami Ink. "That was a good show for tattoos", he says.
Most of Richard's customers don't book. "We're essentially a walk-in shop", he says. "We tattoo a lot of tourists".
Customers often show Richard a design on their phones, although he has a big range of his own to choose from. "It can be time-consuming for a really good tattoo", he explains.
Richard is gradually building up a reputation for tattoo craftsmanship and charges £60 an hour in summer and £50 in winter.
King Arthur's Tattoo has Facebook and Instagram pages which are easy to find.
Website: KingArthursTattoo.co.uk.