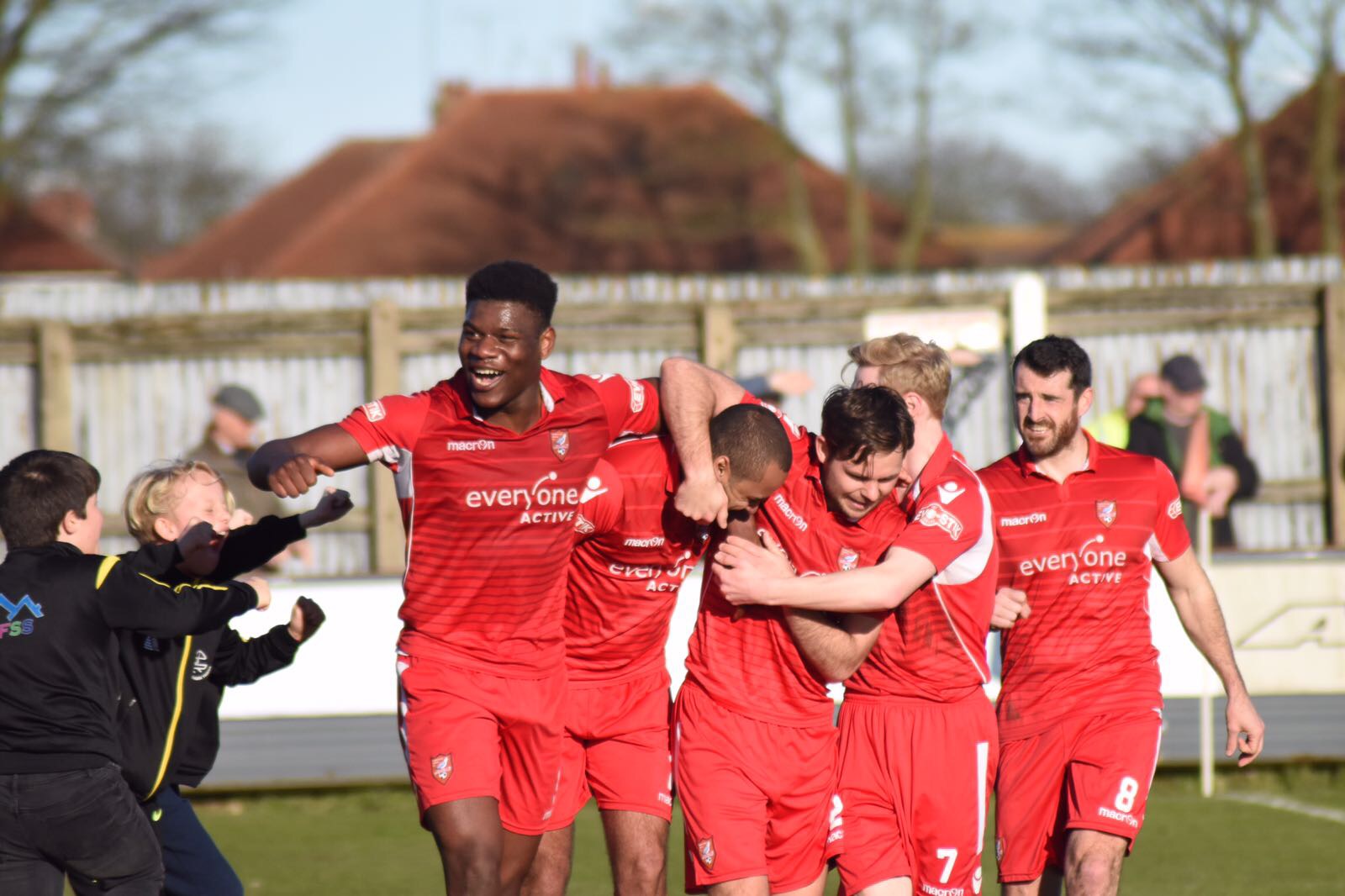 Photos by Morgan Exley
Scarborough Athletic commentator, Ant Taylor, touches base with ex SA striker, Benny Igiehon,
In this months column, I get to touch base with Ex-Scarborough Athletic striker Benny Igiehon. Since leaving the East Coast club he is now plying his trade for Sligo Rovers in the Premier Division of the League of Ireland in the province of Connach on the west coast. Benny became a fans favourite with his larger than life personality on and off the field. While at Scarborough he helped the Seadogs to secure a play-off place in the Evo-stik North, missing out on promotion after losing out in the play-off Semi-final against rivals Ossett Town.
What is the football like in the Irish premier division?
"It's really good playing in this league, there are a lot of great teams, some of which I have heard of before and some I haven't. All the teams I have had the chance to play against so far have been really good."
What do you miss about playing for Scarborough Athletic?
"I miss the songs, the fans had some very cool songs they sang for me when I scored or was playing well, it made me feel like their star."
Who was the biggest influence for you at BORO.
"I had a few great people who where influential, Chris Bolder, Adam Bolder, Morgs, Mezza, Jammer and the Gaffa. Jamie Price was perhaps the most influential because he knew how to speak to me and helped me to work better and get the best out of me. I also had some great memories of the chairman David Holland, he was always there to shake our hands after every game and greet us before every game. This made me feel welcome every time and it influenced my mentality about the club."
What was your best goal for Scarborough Athletic?
"The last minute winner against Tadcaster Albion, this was my favourite goal, most natural goal and most meaningful goal for scarbrough."
If any young Seadogs are reading this what advice would you give them to help aid their football?
"Try your best at all times, always look to improve YOU, never settle for average and give your all for the team. Oh, and also play to your strengths."
Not only in the summer you have become a pro-footballer you have also graduated from university how are you now feeling about that and what in store for Benny in the future?
"Feeling really blessed, I'm grateful to God and my family for the strength and support to help me get through that. It wasn't easy but has been worth it. The future is great, I will improve my qualities on the pitch and progress. I will also keep improving my presenting and producing skills with the aim of having "The Benny chill show" as a regular on YouTube and hopefully television."
Moving to a new club must be nerve wracking, let alone a team in another country. How have Sligo welcomed you?
Do they have initiations like singing or anything more devious like the old "Crazy gang" days at Wimbledon?
"Moving abroad was a great opportunity, I will get a taste of a different culture and get to play football while learning and improving. Sligo has been class! The manager, players and staff have been brilliant to me.
"I had to sing as a new comer. I wasn't to great at it so they made me do it twice."
You scored your first goal for the "bit o' red", I've seen it online and it's a cracker, what was going though your head when you struck that ball?
"Thank you, I tried to wrap my foot around the ball as much as possible. I was praying for the shot to go in directly or someone to help it in, when I struck it I knew I made good contact so was just hoping it keeps curving in."
Benny, before I go is there any message you'd like to give for the Scarborough Athletic fans?
"Thank You Scarborough and the seadogs! I loved being your striker and loved the challenges we overcame together, wishing you more and more success in the new ground (which looks amazing). "Uptheboro"
For all those wanting to know what song Benny sang twice, it was Kayne West's "Flashing Light."